Hilary's Most Excellent Adventure
by Earle Jones
"I really don't want to go, Dad", my outspoken and, occasionally, impertinent 14-year old daughter denounced when I proclaimed the good news to her and my son.
"A week long canoe camping trip in Algonquin Park... just the four of us and the dog. It'll be great, no phone, no friends, no TV", I said. Somehow, I think those were far from reassuring words as I watched Hilary's expression turn from protest to, what appeared to be, premature withdrawal symptoms.
"I could stay here with some friends, really I don't mind. You go and have a good time," she blurted out.
"No, Hilary; we haven't had a family vacation for a long time. You'll have fun, you'll see. We can't lose sight of our priorities, can we," I didn't get a response.
Camping and canoeing has always been something my wife, Sandra and I, and occasionally my sixteen-year old son, Nathan enjoyed for most of our lives. Nevertheless, this led to many compromises in an often painstaking effort to provide activities all members of the family could enjoy simultaneously. Favourites, for example, were amusement parks, and boutiques and more "refined" excursions. Giving in to the occasional roller coaster ride or shopping spree made convincing her to join me on an outdoor adventure more conceivable. I remember one such negotiation entailed education as well as entertainment. Hilary needed some information on marine mammals for a school project. I suggested we integrate a family vacation with a whale watching expedition on the east coast. When she finally stopped dancing around the kitchen in utter jubilation, my mention of the accommodations during our week of exploration, (tent) failed to get the anticipated response. Either Hilary did not hear or Hilary did not care.
But, alas, news of this current junket did not achieve nearly as sensational a reaction. The drive from our home in Eastern Ontario to our destination took a well-rounded two hours. With an unusually heavy rain pelting the two canoes strapped to the roof of the Volvo I occasionally glanced in the rear-view mirror. Hillary wasn't talking but her expression said it all: They can't be serious. We're going to drive 100 miles in this rain to paddle, in this rain, and camp in a tent, in this rain, for 7 days, IN THIS RAIN. WHY??? "What if it's still raining when we get there, Dad. Will we stay in a motel or something till it stops? We're not going to paddle in the rain are we?" she asked. The face in the rear-view mirror was definitely a Kodak moment, though the change that occurred when I mentioned that we had a half-mile carry to the put-in had my wife and I quivering in suppressed laughter. Poor thing, I don't think she realized what she was getting herself into.
As we pulled off the road the rain stopped. Hilary confessed that the portage to the water was not as bad as she thought it would be. As a matter of fact, she actually enjoyed the fresh air and exercise. Once the canoes were loaded, my son, Nathan, the family's paragon of patience, offered to paddle stern for Hilary. He took the time to show her a few basic strokes before setting out. As I felt the 'civilized world' slowly drain from my mind, I overheard Hilary say to her brother, "This is actually a lot of fun. But don't tell Dad I said that. I have my image to protect."
During the course of the week, Hilary asked many questions about paddling strokes, animal tracks, bird songs, the viability of a leach attaching itself to her anatomy. By day 2 she asked if she could take a canoe out by herself. Up to this point she was unfamiliar with solo technique. After about a 15 minute crash course I turned her loose.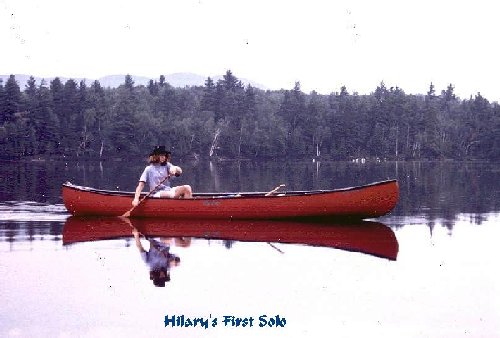 Over the remainder of the vacation Hillary took a canoe out every day for hours on end. Upon her return she always had exciting news for us: like the time she quietly paddled close enough to see a mother loon teaching her two youngsters to fish; or the time she was approached by a group of boy scouts. One of the boys stopped his canoe beside her and in a genuinely dignified voice said, " Pardon me, but do you have any Grey Poupon." She said she laughed so hard she almost fell out of the canoe. "He was cute, too", she told Nathan later. Oh, well she's 14. When the day came to finally point the canoes back to the trailhead a grey sky threatened us with a shower. I perceived this as the acid test. How much had changed? The shower turned to a downpour soon after. No one seemed the least bit inconvenienced by the rain and as I approached the kids' canoe Hillary smiled and said, "I really had a good time this week, Dad. If you ever want to take me along again I'd be happy to go." Nathan splashed her with his paddle and asked,"What about your image, Hilary." She turned to me and winked,"Priorities, Nathan, Priorities."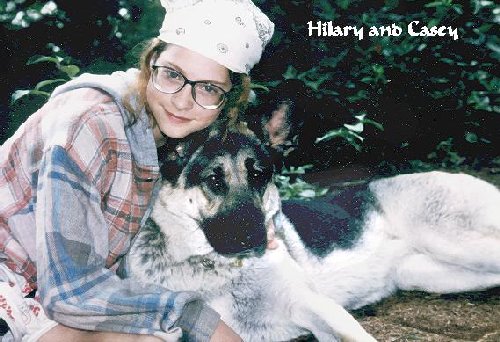 Learn a little about Earle Jones

Return to The Canoe Camper's Home Page.
---
Copyright Gregory Consulting Limited 1996-200

6

.
All rights reserved.