Our Canoe Trip Down the Big Sioux River
---
I don't know how or what started it, but one day something happened. Too much stress on the job, or too much to be done at home, or a combination of things. I had always thought it would be fun to go canoe camping, just to 'get away'. We, my wife and I, had been canoeing before. We had played hooky for a short jaunt around Sioux Falls, South Dakota. This time we needed something more. Most of the time when I come up with an idea like this, it is normally half baked and falls through in a couple of weeks.
One evening while my wife and I were washing clothes, we were discussing the possibilities of such a venture. During a break in the conversation, Amy, my wife, asked, "We're going, aren't we?". I just nodded my head.
I checked the World Wide Web for outfitters and pre-planned trips. I found plenty of outfitters in the Northern Boundary Waters of Minnesota, some in the Florida area, and a few more scattered throughout the United States and Canada. I didn't want to travel too far, or put us in a timetable that would make our vacation more stressful the what we were leaving behind. Most of the Outfitters were also cost prohibitive.
I knew the state of South Dakota maintained a few canoe trails within the state. I checked out the South Dakota Parks & Recreation web page. There was no information on any canoe trails. I did however, E-mail the state and ask them to mail me some information. A few days later I received a packet in the mail. South Dakota had two canoe trails, one on the James River from Mitchell to Olivet South Dakota, and one on the Big Sioux River from Sioux Falls to Newton Hills State Park, South Dakota. South Dakota no longer maintains the trails. However, the state of Iowa has all the access points well marked on their side of the river. The maps I received were dated 1990, so it would be best to temper the information on the map with local information. (I would be happy share what information I have, just E-mail me.)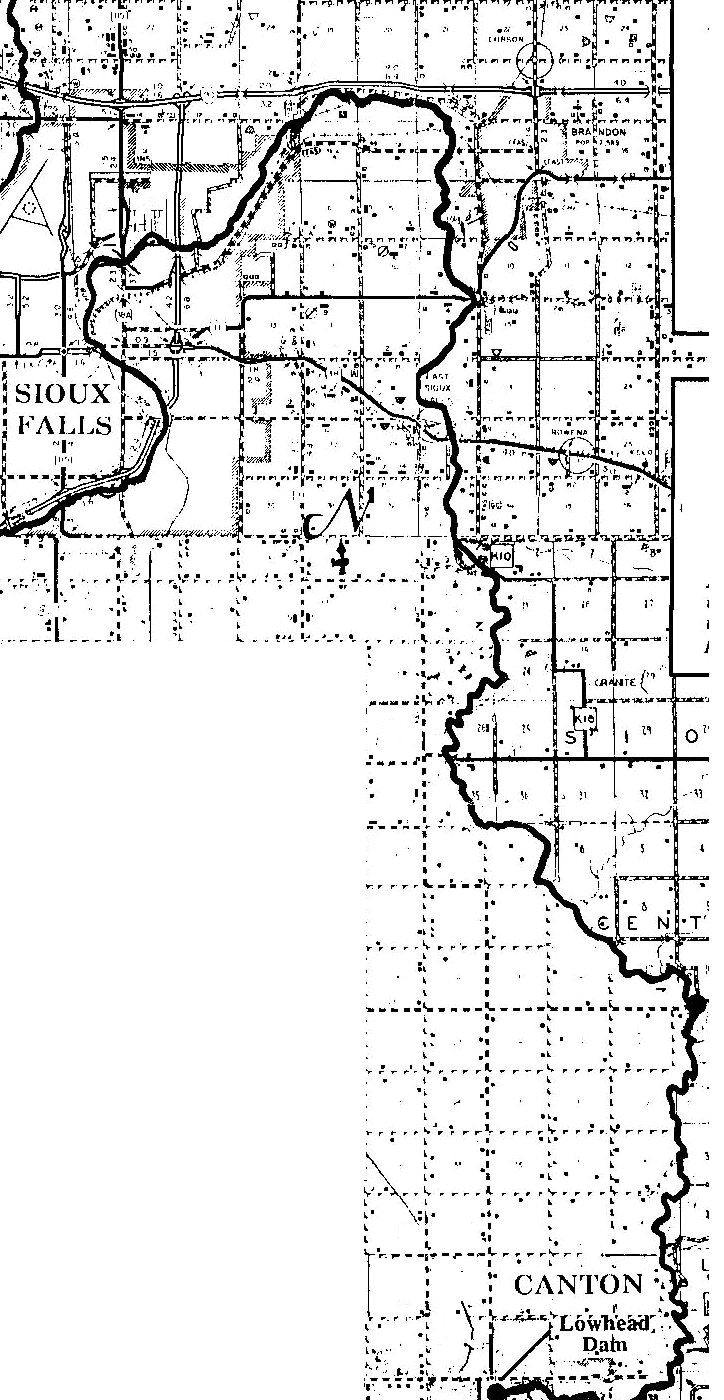 We had decided to use the Big Sioux Falls Trail mainly because for a couple of reasons; one beginning that the trail is only seven miles from where we live, and Newton Hills State Park is only 40 miles by highway. There are little towns down the trail so that way we can pick up whatever we forgot, and I always forget something.
I was reviewing the map and other information that I had acquired when my wife asked again: "We're going, aren't we?" I responded in my best southern draw, a simple, "Yep." That cinched it up. We're going!
We made of list of supplies that we needed and things to be done before we left. Unlike back packing, you float with your equipment down the river, rather than carry it your back. This allows one to bring "extras" for comfort. After making our list, we went through what we already had and what we needed to purchase. One of the first things that we needed was a canoe. I had always thought a canoe is a canoe is a canoe. Boy, was I wrong. I found information on length, beam, rocker, and type of bottom and the effects each has on performance. Canoes are made from a wide range of materials, from wood and canvas to KelvarŽ, with prices to match. The best information I found on the web was at the Old Town Canoe Company. This year we're going to rent. For the equipment that we didn't have, we grabbed our VISAŽ and visited our local sporting goods store. Food is an entirely different story all together. I figured that a block of ice would last about two days in the ice chest, meaning that for the first two days, we could have fresh food. After that, it's freeze-dried or canned foods. This played a major part in our menu selection.
After the equipment was acquired, we had to take care of business before leaving. First, we had to get time off from our jobs at the same time. Once that was done, the dates were set; the trip will start on July 10th and end on July 13th. Then reservations needed to be made at Public camp grounds and permission gained from private land owners, to camp on their land. By calling 1 (800) 710-CAMP, one can make reservations for South Dakota Parks and recreational areas. There is a small fee for camping in public campgrounds. For more information, check the South Dakota Parks and Recreation web site. Hint: Most landowners don't care if you camp by the river side for a night or two; they would like to know that you are there, and that you'll clean up yourself. As a "treat" for ourselves for making the journey, we reserved a hotel room in Canton, SD. It seemed that there was an endless list of things to be done before we left; it was as if we were leaving for a year, rather than for an extended weekend.
July 10, Day One
I was very busy that morning. I had some last minute business to take care of before we left and we ran into a small snag, our transportation from our home to the starting point in Sioux Falls, backed out on us at the last minute. We managed to get all of our equipment and the canoe in and on a GEO Storm though.
After we got there and the car was unloaded, I packed the canoe, while my wife took the car back home. She then took a taxi back to the starting point. By the time she got back, the canoe was packed and ready to go. Soon we were off.
Once we got into the current of the river, we moved along quite nicely. I was amazed at the number of trees that had fallen in the river. As we made one turn we saw a wood duck hen and her brood crossing the river. When we came closer, the only thing that duck wanted was to get out of our way. As we got closer to the Northern States Power Plant, we also saw an otter swimming out of the water. At the power plant, the river widened out, and got real shallow. I was hoping to stay dry throughout the trip, but had no such luck. We had to get out and pull/push the canoe over several sandbars.
The map we had indicated some bridges that we would go under. When we got to the bridge, the only thing we saw were the old pilings. As we went under one bridge, there was some kids fishing they gave us yell and followed us on their bicycles down the trail that followed the river.We made one turn to find cattle standing in the water. We just wanted to get by quietly and quickly. A cow who thinks it's calf it threatened, or an upset bull, is nothing to play with, on dry land or in the water. As we paddled by, the cattle moved out of the water to stand on the bank and watch us. The bull didn't see us as a threat or didn't care for the water, but whichever the case, he seem unmoved by our presence.
I noticed while following the topographic map, that it is not very accurate. In a few places where a road or railroad crossed the river on the map, the only thing that was left, was the pilings. Even by following the map that was supplied by South Dakota, Parks and recreation, there were a few things missing. At one point, the map from South Dakota indicated an access point at a bridge. When we got there, the road and bridge was private property.
Because we scouted the route the weekend before, we had a good idea of what was ahead. At the point that we were going to eat lunch, we realized how far the river has gone down. We tried very hard to beach the canoe and ended up wet. The site would have been perfect, if the river was 18 inches higher. We went further down stream and found a spot that would do. When I stepped out, I sank up to my thighs in mud. After learning how to walk (wade) through the muck, we had a short lunch. Once we were back out in the current, I hung my legs over the side to wash off the nasty stuff. I made a mental note of the experience, and to avoid that spot next time.
In several places, we noticed broken concrete and junked out cars along the riverbank. Our only conclusion is that it was put there to avoid erosion. We also ran into a couple of herd of cattle in the middle of river again. At one point we were unsure if a bull was going to charge or just watch us pass. I wasn't too sure if we could paddle fast enough if he decided to charge. Luckily, I didn't have to find out.
Before I knew it, we were at the next campsite. We beached the canoe and before we started to unload, we scouted the area. There might have been other campers in the area and I also wanted to select a real good place to set up the tent, the kitchen, etc. After camp was established, it was time for a relaxing break. I believe I can say it was the best night out there. There was no one out but us. We had a very good dinner of beef stew, and biscuits, followed by some fresh cherry pie. Sleeping was a totally different story. I was sun burnt and the bugs would not leave me alone. And some time during the night, I heard something fall into the river. When I went to have a look, I saw nothing floating, nor any evidence that anything was amiss. I went back to my non-sleeping.
July 12, 1998: The Trip Home.
The next morning I woke up more tired then when I had gone to bed. During the night, Amy had gotten up to make coffee. While I struck camp, she made breakfast. The phone calls that we made the night before seemed to indicate that our daughter was giving Amy's sister some problems. It was best if we finished the trip and got home. It seemed to take forever to get going. Once we ate breakfast, we loaded up and were going again, on the last leg of the journey. Upon rounding the first bend, I saw what fell into the water. A large chunk of the bank was missing. From what we could tell this is a frequent occurrence. We saw more people out fishing that day.
As we crossed under the Klondike road bridge, we saw a sign on the Iowa side indicating a low-head was coming up. A low-head dam is a small dam that water flows over, rather than through, floodgates. Low-head dams can be very dangerous to a canoeist; the drop off itself is enough to hurt or kill someone. Provided that one did survive the drop, the surface currents at the bottom of the dam, might drag the canoe into the flow, swapping it. Again there is great potential for death. Veteran canoeists call low-head dams a drowning machine.
After a light lunch, we portaged around the dam on the Iowa side of the river. I wish I had scouted this area a little better. Although the portage on the Iowa side was shorter, we should have portaged on the South Dakota side. It would have made for an easier portage, longer perhaps, but easier. I now also understand the reason for keeping the small, loose equipment, to a minimum. After the portage, we were padding again.
We got mixed reactions while paddling that day from fishermen. The children hollered and shouted their hellos, they seemed excited that someone was canoeing on the river. Most of the adults treated us with indifference, but still, others seemed annoyed at our presence. It was like: "How dare you violate my secret fishing hole." We paddled on. The fish really were jumping that day, and the fishermen were taking advantage of the active fish.
Before long, we were paddling along the outskirts of Canton, South Dakota. Once we saw the end in sight, we stopped and gave the rapids a good looking over. The river had gone down, exposing more rocks. After an evaluation, and some discussion, we went for it. We paddled back up the river, then turned around, and gave it all we had. As the front of the canoe went into the rapids, I tried to maintain control, and avoid the menacing rocks. The front-end dropped down; the rear of the canoe raised up, and for a moment, I lost control. Just as the canoe started sliding through, it glazed a rock on the right, and then lurched to the left. Before I knew it, we were passed the rapids.
We landed the canoe on the shore. While I went and got the pick-up, Amy started to unload the equipment. Without rhyme or reason, we loaded the camping equipment and the canoe on the pick-up, took a short break, then headed for our reward, Dairy Queen.
On the way home, we vowed to make this a yearly trip. We discussed the changes we would make: like a larger tent, better food, and a better defense against bugs. We also discussed the possibly of bring along another couple. Once we got home to our daughter's, "Welcome Home!", greetings, we started planning for next year's trip.

Learn a little about Michael Clark

Return to The Canoe Camper's Home Page.
---
Copyright Gregory Consulting Limited 1996-200

6

.
All rights reserved.