Paddling Trip To Northern California's
Lake Almanor ( near Mt. Lassen )
by Phil Rowe
About 30 miles west of Susanville in northern California is some fantastically beautiful country. Heart-shaped Lake Almanor provides some of the most wonderful scenery and canoe or kayak paddling in the west.Our campground, on the northeastern part of the lake, is a great place to park and enjoy the views. From the dock, especially in the early morning, snow-capped Mount Lassen towers in the northwestern sky. It's delightfully framed by tall evergreens and the blue lake glistening in the foreground.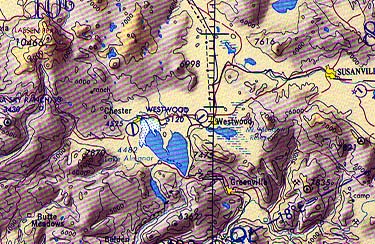 I can hardly wait to get my trusty sea kayak down to the shore. First I check to make sure that I have everything needed. Yep. I've got my life jacket, paddle, gloves, camera and a spare roll of film. Better not forget that broad-brimmed hat and to rub on some protective sun screen. My sleek white boat eases gently into the water. Soon I'm aboard and begin to paddle westward across the lake. The waters are pretty clear and though I don't see any fish yet. It's fascinating to look into the depths and see the rocky bottom. Waves are no problem on this windless morning for the lake's surface is like glass.

I establish a comfortable steady pattern of left and right paddling strokes and almost effortlessly and I'm making about four miles per hour. Boy, this is great!

Now and then I pause to just marvel at the view. That mountain is really impressive and dominates the skyline. Tall ponderosa
pines along the shore add another dimension to make you glad to be here. What a wonderful place!

I continue west across the lake and in about 45 minutes reach a small marina. Several folks are on the dock and others are working on some boats. A couple of fellows about my age, though perhaps a bit grayer, are getting ready for a day's fishing. A friendly golden labrador retreiver greets me as I ease my little boat along side the dock and head for the beach.

The sign of a small cafe and bait shop invites me for my my mid-morning coffee. I beach the boat, pull it safely up where
waves won't bother it, and head across toward the cafe. The smell of freshly brewed coffee is like magnet, drawing me irresistably closer.

"Don't see too many boats like yours," the grizzled old timer behind the counter declares, as I pull open the screen door and
head for the coffee pot. "Help yourself to coffee," he quickly adds.I grab a styrofoam cup from the stack on the counter and pour the steaming brew.

I look about for any sign of a donut or a sweet roll. "Sorry, nothing but some packaged crackers or a candy bar," my host says. He's sure that I was looking for something to eat, and he was right.

"Coffee's fine," I replied with a bit of disappointment in my voice. He could tell.

Soon we start to chat about the lake, the slow fishing this time of year, and what the place is like in the winter. I explain that it is
my first trip to the lake and gladly express my delight. "Yup, it's even more beautiful in the winter," the old fellow announces with an appreciative tone in his voice.

I finish my coffee, drop the foam cup in the trash barrel just outside the door and head down to the water's edge. By now the
friendly labrador joins me and we get acquainted briefly. Labs are one of my favorite dogs. I tell him that my own black Lab awaits me at the campground, but my new friend only wags his tail and watches as I climb back into my kayak.

This time I head south and then turn east. The wind is picking up a little, not enough to be a problem for my paddling. It's making only little wavelets on the water, but they glisten in the late morning sun. I'm glad for that broad-brimmed hat and sunglasses, for it's really bright with the reflected sunlight coming off the water.

As I head for the eastern shore and look for landmarks to guide me back to the campground, I'm impressed with how quiet and serene it is. This is a magnificent place to be on such a fine day. I ponder how great it would be to see it in the winter, with broad expanses of white bordered by evergreens, the blue sky above and that impressive mountain lording over it all.

If you haven't seen this part of California, it's time you did. And no matter which season you can get here, you'll not be disappointed. Lake Almanor and the Lassen area is not to be missed.

Learn a little about Phil Rowe

Return to The Canoe Camper's Home Page.
---
Copyright Gregory Consulting Limited 1996-200

6

.
All rights reserved.