Deep Cove Adventure
by Phil Rowe
---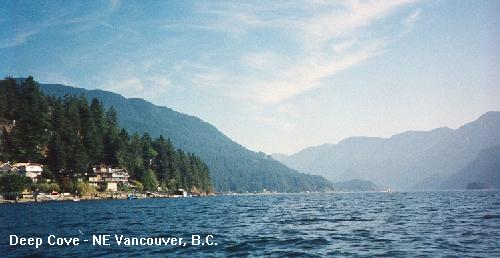 Just east of North Vancouver, British Columbia is a terrific place to go sea kayaking. It's at the lower end of Indian Arm, a 30 mile northerly extension of Burrard Inlet. Right at the opening of the deep water cove is a waterfront community with a delightful collection of shops, cafes and boating facilities. A pretty big kayak rental outfit is there too, on the west end of the beach. This place called Deep Cove is great for novice kayakers.
Two lady-friends wanted to try their hand at sea kayaking. Though they were both experienced canoeists, neither had ever tried a kayak. They were a bit apprehensive because of the undeserved reputation kayaks have for being unstable, tipsy and difficult to handle. Yet both ladies were anxious to give it a try, especially after my explanations about sea kayaks actually being more stable than many canoes, less susceptible to wind problems and more comfortable for long distance paddling.
One Saturday morning in September we drove to Deep Cove with my Wind Dancer kayak atop the car. The weather was perfect with temperatures in the 70's and winds very light. In just minutes we unloaded the boat and wheeled it down to the beach below the parking area. My friends had planned to rent kayaks but it being a weekend none were available. We decided instead to take turns using my boat.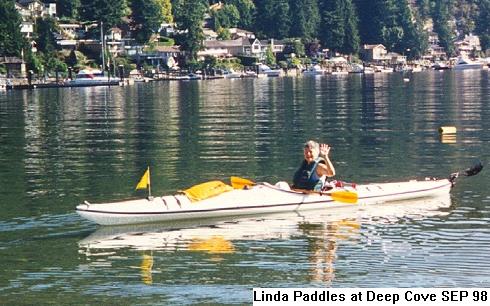 Well, with the barest minimum of instruction on the beach, the first of my friends was ready to give kayaking a try. For about 20 minutes she paddled around that smooth-water cove with the greatest of ease. Within a few minutes she got the hang of it and enthusiastically circled the whole area. The smile on her face was clear evidence that another convert from canoes to kayaks was affirmed.
The second lady anxiously awaited her turn and quickly replaced the first within the cockpit of that sleek long boat. She too took to kayaking with ease and traversed the Deep Cove bay. That made two new kayaking enthusiasts created in under 40 minutes. When she returned to the beach that same broad smile reflected her new-found delight at this water sport.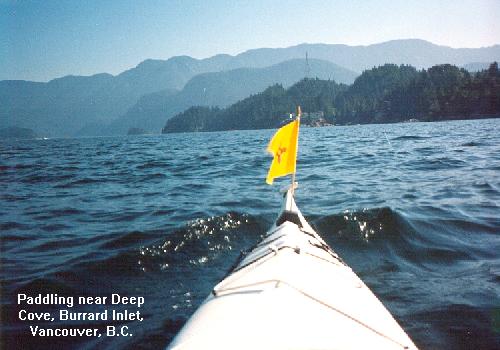 Age is not a factor, for sea kayaking is really not difficult. It's not strenuous and there is little likelihood of getting into trouble, especially if a few common sense rules are followed. I insisted that anyone using my boat wear a life vest. And I explained and demonstrated how to use the paddle as an outrigger in conjunction with an inflatable floatation device. Both were cautioned about how to handle waves generated by powerboats traversing the cove, reminded to avoid being broadside and take them on from the front or rear or at an angle. They were further cautioned to avoid the main traffic areas to preclude being run over. Kayaks sit very low in the water and are not readily seen by power boat drivers, especially if they are towing skiers.
After each of us had taken two turns paddling in and around Deep Cove, we decided to call it enough and head for a nearby coffee shop. The conversation was great fun as each of my new kayaking enthusiasts described their experience and feelings about the sport.
It can be contagious.

Learn a little about Phil Rowe

Return to The Canoe Camper's Home Page.
---
Copyright Gregory Consulting Limited 1996-200

6

.
All rights reserved.