Lubec and Campobello Island
by Phil Rowe
---
Prologue --- An impromptu change to our travel route, to include Campobello Island, became an unexpected treat. President Roosevelt's family frequented this area for years, and we can see why. It's delightful.
---
It's as if the Maine Chamber of Commerce was watching over us, for the weather remains delightful. We arrived in the Lubec, Maine area in late morning. Would have been there sooner except we stopped along the way up U.S. 1 for coffee and some great muffins.
We located the Sunset Point Trailer Park easily at the southern edge of the little town on the coast. This is a lovely place to camp. It's on a small peninsula jutting out into the bay, around the point of land on which Lubec sits facing Campobello Island and the Bay of Fundy. Such a pretty scene with the blue waters, blue sky and green tree-lined shoreline edged with craggy gray granite rocks. The grounds here are lawn, relatively level and well-maintained. A duck pond right behind our trailer is fun to watch too, though sea gulls and cormorants prevail in the other direction. A salt-sea air wafts over us from three sides. Nice.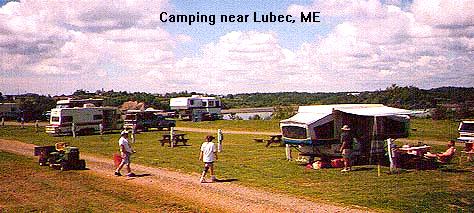 After unhooking the trailer and getting set up, we packed a picnic lunch and headed to Campobello Island just a couple miles farther east. The border crossing into New Brunswick, just over the short high-arched steel bridge from Lubec, was quick and painless. A few perfunctory questions about where we come from and do we have guns, drugs or contraband was all that was involved. Barely 100 yards over the border I stopped to take some pictures. The view of the bridge, Lubec and a nearby lighthouse was worth the stop. At the adjacent visitors' center I picked up a map and some brochures. Then it was on to the Roosevelt cottage a mile down the road.
We were impressed by the 34-room summer house which FDR and Eleanor used prior to his contracting polio at age 39. It's easy to see why he loved the area. The cottage itself was given to them by FDR's mother. It's a delightful place, elegant without being ostentatious like Hearst's San Simeon in California. FDR's cottage is very homey and livable. Even the servant's quarters are nice, small but nice. There is a visitors' center worth stopping to see. In it is a small theater that presents a video history of the place and depicts in pictures and sound the Roosevelts at home here. I never appreciated how active and fit FDR was as a young man. And the early pictures of him with Eleanor and the children are most attractive. What a wonderful place for kids to grow up.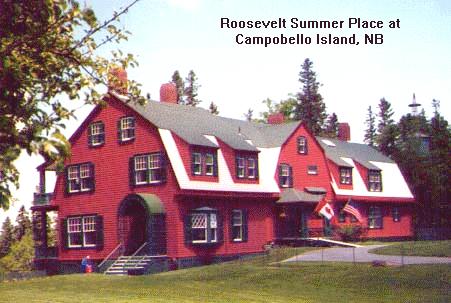 We walked some of the grounds, including a stroll down to the beach where FDR and later his own kids played, swam, fished and boated. How idyllic it must have been. Jean and I were most impressed and pleased to have include this on our trip.
Next we drove out to Eastern Head, at the northern tip of the island to see the light house. The road becomes gravel for the last half mile or so our on a narrow tree-covered peninsula. We could not drive right to the light house, for it sits on a little island fifty yards beyond the road's end. The tide was starting to ebb and the swift current roiled between the rocks. The sunlit red and white light house was close enough to photograph, though part of it was obscured by the evergreen trees on our side of the little island. It's a beautiful scene.
We drove next to nearby Herring Cove Beach, deciding to have our picnic lunch there rather than at the light house. That was a good choice as the Provincial Park provided a nice covered table next to the water and beach. The park is free. It's a very nice place and also features a fine campground.
On return to Lubec we detoured through the town to get a better look of the bridge and opposite shore's lighthouse. This harbor is very picturesque. I hope the snapshots turn out well, but they could not capture the scene adequately I'm convinced.
Back at the campground I hastened to unload my kayak and wheel it to the beach for some paddling while the tide was still nearly high. I can now claim to have paddled in Bay of Fundy waters, which fact and that it is my 44th body of water to paddle probably only impresses me. Ah well, I keep adding to my list of paddling places, and this one is one of the best. The water is exceptionally clear, perhaps even moreso than Bass Harbor near Acadia Park. You can see bottom at 30 feet easily. The kelp and seaweed looks like mountains with cavernous clear spaces between. I didn't see any lobster, crabs or fish, but water birds abound, especially gulls and black cormorants. Because of the ebbing tide and warnings by locals of rip tides in places, I limited my paddling to the safest areas.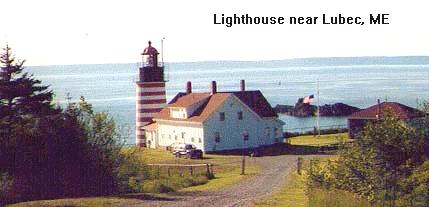 Before we left the next morning for Fredricton, New Brunswick we drove the short distance from our campground to East Quoddy Head lighthouse. The sun was long up, even though it was barely 7:00 A.M. when we got there to view the most easterly part of the lower 48 states. The painted brick red and white tower holds a 1000 watt bulb within a complex Fresnel lense system. It blinks on and off around the clock. The adjacent fog horn was silent, as the clear cloudless morning required no warnings to mariners out on the Bay of Fundy. Jean was pleased to have added a visit to this place as a compliment to her earlier trip to Neah Bay and Cape Flaherty all the way out west in Washington state.
Learn a little about Phil Rowe

Return to The Canoe Camper's Home Page.
---
Copyright Gregory Consulting Limited 1996-200

6

.
All rights reserved.