Paddling Uphill
by Phil Rowe
---
Maybe I'm just getting old, but that last mile sure did seem like a lot of work. It was as if I'd just paddled my Eddyline 17-foot touring kayak up a long steep hill. Early morning I put in on the shore of the Snohomish River east of Everett, Washington. My launching place was about two miles from the mouth of the river that empties into the bay not far from the boat harbor. A breeze from the east and a down current paddle was truly a delight. It was a great day to be on the water.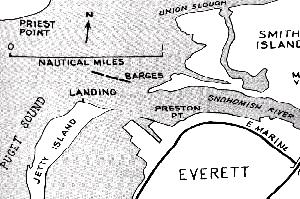 I failed to realize that my return trip would be into the teeth of that freshening breeze, and I'd be paddling against the river flow. To make matters worse, the out-going tide accelerated the current. My two-mile return upstream proven to be a real chore. It probably took three times as long on the way back as it did down-stream. This is a lesson that a desert dweller like me had to learn the hard way. I'm just not accustomed to allowing for the tide and its impact on river flow at the estuary. Tides on my New Mexico lakes and rivers aren't much. I'm quite used to bucking stiff breezes on our high country lakes. But tidal influences are foreign to me.
So, dear reader, if you are not used to paddling coastal waters, take heed and save yourself some extra work or worse. Consider the effect of tides, especially ebbing tides, on river flow. It's bad enough fighting headwinds. It's a whole lot harder when the current is against you too.
Learn a little about Phil Rowe

Return to The Canoe Camper's Home Page.
---
Copyright Gregory Consulting Limited 1996-200

6

.
All rights reserved.